Our rooms
YOUR retreat at the end of the day
Tasteful, cosy and bright. All of our 52 rooms are easily accessible by elevator, were completely renovated in 2009 and each is equipped with a 22" LCD TV, a telephone, air conditioning, heating, WIFI, a small safe, a bathroom with shower, a hairdryer and a balcony with 2 chairs.

The room size is approx. 11 sqm, the bathroom has approx. 2.5 sqm. (The rooms differ slightly in size). They are all double rooms, which have the possibility to add a third bed. FLOOR PLAN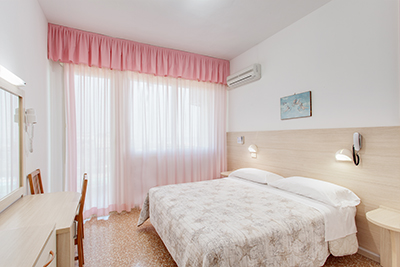 ROOM WITH VIEW TO THE PINE FOREST
Rooms located to the west, with final relaxing evening sun and view to the green pine forest, for all those guests who especially love the tranquility.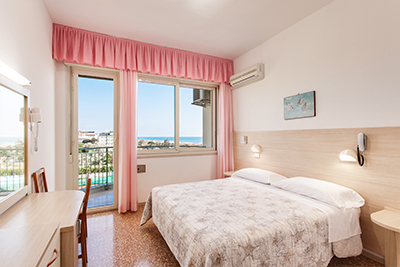 ROOMS WITH SEA VIEW
They are located at the front of the hotel and offer a magnificent view of the sea, from sunrise to sunset. They are slightly more expensive, but also have a minibar.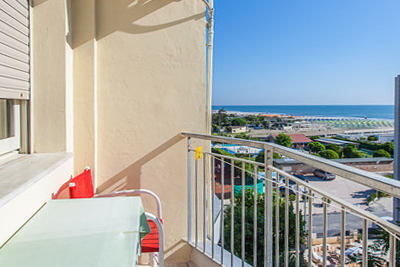 ROOMS WITH SIDE VIEW TO THE SEA
Enjoy a lateral view of the sea already with the first sunbeams.